SiVivaEspana.com is a collection of communities, Facebook pages, Twitter accounts, websites, mailingslists and more all related to travel in Spain with focus on the Canary Islands.
We use all our communites and networks in combination to keep community discussions going by publishing news, information, events and much more related to each location.
SiVivaEspana.com is run by Norwegian entrepreneur Hans Johansen. My great inspiration and role model was Norwegian entrepreneur Bjørn Lyng who personally set a new standard for life and quality on Gran Canaria. We must now pick up the great job he did and take Gran Canaria to the next level. All the tourism insfrastructure is now in place. My vision is now to make Gran Canaria a generally a more insteresting place to go and spend time. My first step is to build a really comprehensive shared calendar of everything that is actually going on in Gran Canaria (it is a lot and now you can see it!), and then share this freely far and wide. Then I will start actually contributing by producing more interesting events in Gran Canaria beginning with the Gran Canaria Business Week. Please help up in this effort by sharing our material on your social networks. Thank you.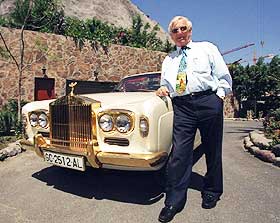 Norwegian entrepreneur Bjørn Lyng who personally transformed tourism in Gran Canaria.
Bjørn did not wait for other people, local government, state government or the media to give him permission or approval of his vision – he just went ahead and did it, setting a great example.
 http://no.wikipedia.org/wiki/Bj%C3%B8rn_Lyng
#######
Partner with us, we are interested in partnerships for mutual benefit.
Special focus on:
- Growing our communities
- Link exchanges
- Advertising
- Sponsorships
- Travel freebies for the 2012/2013 winter season (free accomodation, meals, services in return for reviews to our communities).
Growing the numbers:
In general we try to go even by numbers, so if you expose us to 10000 people in your networks, we will expose you to 10000 people in our networks.
Contact:
Hans
hanslysglimt gmail com
https://plus.google.com/110330514018405836418/about
http://www.facebook.com/lysglimt

twitter.com/lysglimt